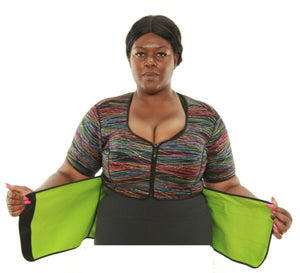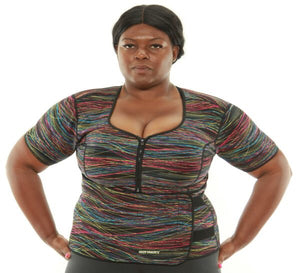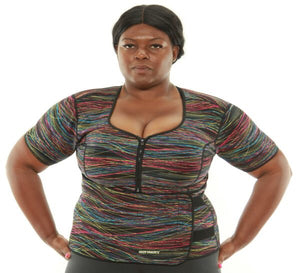 Power Tank Belt Short Sleeves Rainbow 2.0
Our comfortable hot slimming top with a built in tummy control belt. Made with our magic fabric to help you sweat more during your daily activities. This top is ideal for workouts, long walks and running. This top will help you burn more calories on your upper body. Helps reduce inches on your stomach whenever you are active. 
Very close-fit, super comfortable

Perfect curved seams for a good silhouette

Fits every type of chest and upper body shape

Smoothes & shapes your midsection instantly


Help you generate sweat whenever you are active

Maximize your fitness routines, increase your core body temperature

Made of 60% neoprene, 15% nylon, 15% polyester, 10% lycra

Available in sizes:  3XL
Caring for your product/washing instructions
This garment should be washed after each use specially if it was used for a workout session, a long walk, or a run.
Hand wash in cold water with a mild detergent & hang dry.

Do not use fabric softener
Do not bleach
Do not iron
Hang dry/ Line dry
Suggestions/recommendations
To achieve great results using your GotyGoty apparel, it is advise to wear them every day or at least  5 days a week for few hours even if you are not exercising. You can wear them inside your work clothes. GotyGoty apparel can really help you stay warm in the winter season.To better enjoy your GotyGoty apparel, stay active, eat fresh & clean, drink less soda and lots of water.
GotyGoty Hotwear Inc. Return/Exchange Policy
All prices include shipping from GotyGoty Hotwear Inc.(Canada). In the event of an exchange, you the customer will be responsible for all shipping costs to return your garment to GotyGoty Hotwear Inc.. GotyGoty Hotwear Inc. will cover all shipping costs to send your replacement garment.